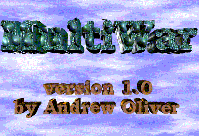 [MultiWar] | [MultiWar Online] | [MultiWar for DOS] | [MultiWar for Windows] | [MultiWar for OS/2] | [Scenarios]
Play MultiWar Online right now
MultiWar is a multi-player user-configurable wargame written by Andrew Oliver. It has the same features on all platforms, including:
Scrolling board of 50x50 squares (more on some platforms)
Points achieved by achieving combat victories and occupying victory squares
Automatic Artificial Intelligence shortest-path movement
The ability to create, edit, and distribute scenarios without royalties
It is available for the following platforms: Future releases are planned for these platforms: collection of scenarios for MultiWar, contributed by users and the author.
---
Your Feedback Is Welcome
If you have tried MultiWar and have an idea or suggestion, you can contact me at support at frequal _dot_ com.
---
[MultiWar] | [MultiWar Online] | [MultiWar for DOS] | [MultiWar for Windows] | [MultiWar for OS/2] | [Scenarios]
[Other Software by Andy Oliver]
---
Last modified on 25 May 2008 by AO

Copyright © 2016 Andrew Oliver